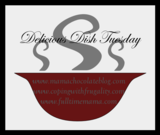 Welcome back to another week of Delicious Dish Tuesday hosted by Coping With Frugality and Full Time Mama.
This week I decided to share my recipe for Cheeseburger Casserole. It is one of those recipes that isn't entirely healthy and is kind of disgusting in a delicious sort of way. Hopefully that makes sense. Anyways, here it is, ENJOY!!
What you need:
1 pound ground beef
1 can cheddar cheese soup
1 bag frozen french fries
2 T. ketchup
salt and pepper
"Burger topping" – ketchup, mustard, lettuce, pickles, onion, etc.
Here is what you do:
1) Brown the beef, season with salt and pepper
2) Mix in the cheddar soup and ketchup
3) Pour beef mixture into a square baking dish
4) Add frozen french fries right on top
5)Bake, for however long it takes the fries to be done (just follow directions on the package)
6) Dish everyone up a healthy serving and let them top just how they would a cheeseburger!!