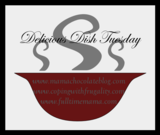 I'm excited to be participating in another week of Delicious Dish Tuesday hosted by Full Time Mama and Coping With Frugality. Enjoy!
Who doesn't love pizza? And chicken alfredo? If you are saying, "Me! I don't!" well than stop reading!
Here is what you need:
Store bought pizza crust or homemade from my favorite recipe.
Store bought alfredo sauce
1 C. cooked chicken (rotisserie works great!)
Any kind of veggies you like (I used fresh tomato and green pepper)
Mozzarella and parmesan cheeses
Here is what you do:
1) If you are using an uncooked dough (as opposed to Boboli or equivalent) and you want a crisper crust, I suggest baking it for about half the time without the toppings on it, then flip it over (so that the crispier part is on bottom) and add toppings to the side that WAS touching the pan. Make sense?
(this is what it looked like after pre-baking, I then flipped it over before I added toppings so the bottom was crispy)
2) Add alfredo sauce and spread almost to the edges
3) Add veggies and chicken
4) Top with cheeses
5) Bake according to dough instructions (if you already pre-baked the crust remember to adjust the cooking time accordingly)
**If you are "eating healthy" you can find whole wheat pizza crust at the store (and it's not too shabby!) and then make a quick arugula salad with vinaigrette and throw it on top of your pizza.**
For the kids, I made a similar pizza with only alfredo sauce and cheddar cheese on top. I then cut it into pizza "fingers" and gave them big bowls of red pizza sauce to dip them into (they love red sauce and I figured it counted as their veggie).