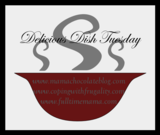 Another week of Delicious Dish Tuesday! I am so grateful to be a part of this weekly event hosted by my friends at Full Time Mama and Coping With Frugality.
For Valentine's Day I made one of my families favorites with a romantic twist! Heart-shaped mini meatloaves! I find that mini meatloaves are so much tastier because you get more of that delicious crispy outside, and they are a lot easier to bake and serve. I apologize that I only have ONE picture of the silly meatloaves, but you'll get the point! I simply placed a cookie cutter on the baking sheet and filled it with meat mixture, pressing to fill the cutter and then pulled the cutter up leaving a heart shaped meatloaf!
What you need:
Olive Oil
1/2 C. onion
1/2 t. thyme
salt/pepper
1 T. soy sauce
2 T. stock
1 T. ketchup
1 lb. ground beef
1/4 C. panko bread crumbs
1 egg
What you do:
1) Saute the onions in the olive oil with thyme, and a dash of salt and pepper for about 8 minutes
2) Remove from heat and stir in the soy sauce, stock and ketchup, allow to cool
3) Add onion misxture to a large mixing bowl with the beef, bread crumbs and egg
4) Mix gently with a fork until all ingredients are incorporated, do not over mix or meatloaf will not be tender.
5) Divide into 3 or 4 loaves on a lightly greased baking sheet and top with a squirt of ketchup.
6) Bake uncovered at 350 degrees for 40-45 minutes
Tip: You can easily make up the mixture the night before and shape the loaves and pop them into the fridge until you are ready to bake them!